Paxton 2011-2014 Ford 5.0L Mustang GT Supercharger Systems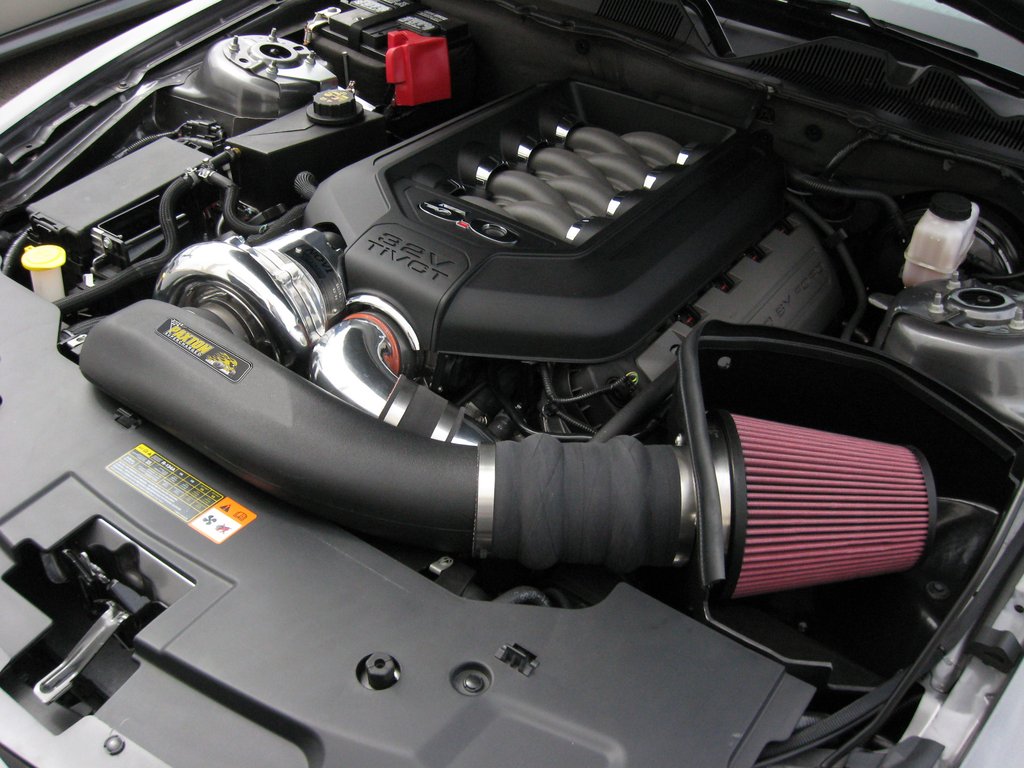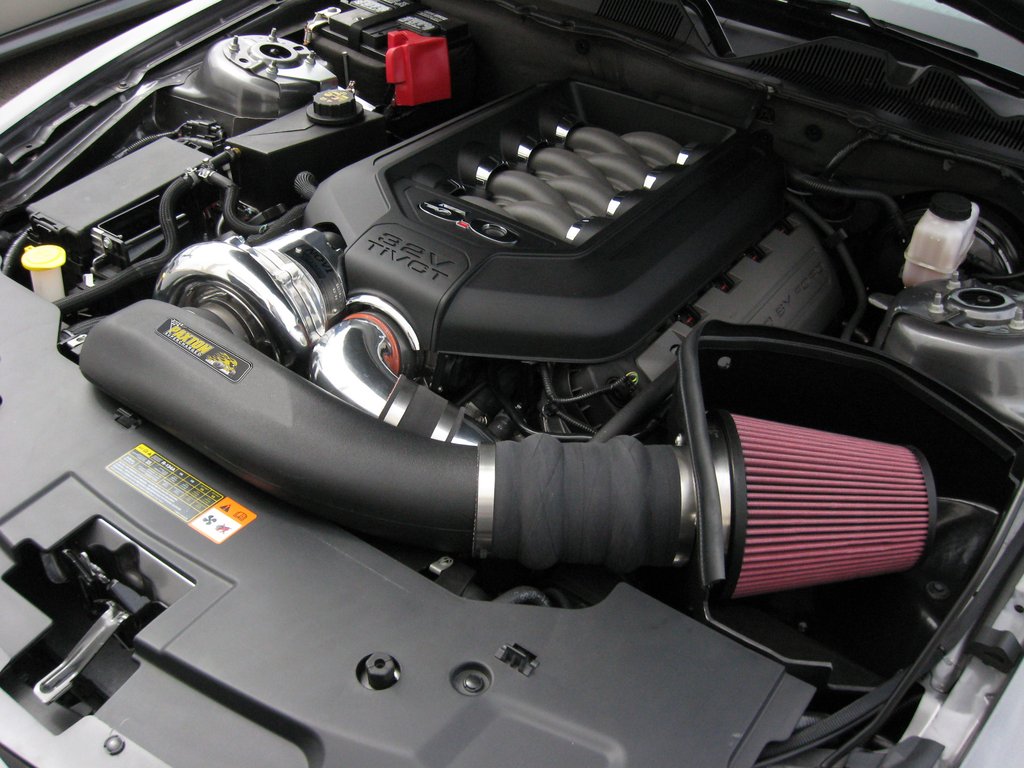 Paxton 2011-2014 Ford 5.0L Mustang GT Supercharger Systems
Paxton's 2011-2014 Mustang 5.0 GT Supercharger Systems are available as either a complete, fully calibrated bolt-on, or as a Competition tuner kit for custom installations for up to 1,000HP (see below).


Complete System

2011-2014 - Complete systems are available for manual transmission vehicles only. Tuning for vehicles with automatic transmission is currently under development.


605HP Complete Systems, 50-State Smog Legal under CARB E.O. # D-213-33


Complete, fully calibrated supercharger systems are available for the 2011-2014 5.0L Mustang GT, featuring the NOVI 2200SL centrifugal supercharger with air-to-air charge cooler.


The complete system will boost your stock 2011-2014 GT to 615 HP and 475 lb/ft torque with 7.5 PSI from the V-3 supercharger at the factory redline.


Note: Supercharger System will not clear fog lights on California Special models. Fog lights will need to be removed or custom discharge tubing will need to be obtained.


The 2011-2014 Mustang 5.0L GT system uses Paxton's NOVI 2200 supercharger. Continued development in Paxton's Lab resulted in the NOVI 2200, with its patented oil control system and state of the art centrifugal compressor stage this NOVI 2200SL literally blows away the competition. Industry leading 75% adiabatic efficiency [SAE J1723 standard] means less heat is being generated, drive power is reduced and more net power is produced. Less heat also means better durability. Also, Paxton's supercharger systems weigh less than half of the low-tech competing brands.


Superior Technology

Centrifugal superchargers easily make more pressure and flow than a roots type blower and are much more efficient. Read our Roots vs Centrifugal comparison to see the numbers.


Paxton supercharger systems are a great value. Dollar for dollar, Paxton systems deliver more horsepower than virtually any other method of upgrade. Also, driven normally, gas mileage often increases rather than decreases.


Tuner Kits, Upgrades, More HP

For higher-horsepower, custom-tuned installations we recommend a tuner kit, which does not include a fuel pump, fuel injectors or ECU programmer. This requires you or your installer to provide custom calibration and the required fuel components. The NOVI 2200SL supercharger included with the tuner kit is capable of up to 900+HP on modified vehicles. Tuner kits are also available with the 1,000HP capable NOVI 2200H/D supercharger for high-performance racing vehicles. Call Paxton or your dealer for more information.


COMPETITION TUNER KIT

1,000HP - Tuner kits are also available with the powerful NOVI 2200 H/D compressor stage that support four digit horsepower numbers with additional engine mods. See 2011-2014 Mustang Tuner Kits page for additional information.


Available Supercharger System Finishes

For that fully integrated look, 5.0 Mustang systems are available in factory matching black finish. Polished and Satin Finish units are also available.


Complete System Included Components and Features

- NOVI 2200SL compressor with 3.60" drive pulley
- Manifold boost pressure: 7.5-8.5 psig @ redline on stock engine
- Supplied SCT programmer re-flashes the ECM with a safe, custom Paxton calibration for 91-octane fuel.
- Fuel system upgrade includes fuel rail spacers and high flow replacement fuel injectors
Air inlet assembly includes:
- High-flow roto-molded ducting. Mates to OEM airbox and some aftermarket "CAI" MAF/inlet assemblies
- OEM replacement K&N panel filter
- Silicone sleeves and reducers
- Stainless steel clamps
- PCV and breather hose provisions for both automatic and manual transmission applications
- Replacement engine coolant pipe and hose assemblies
- Engine coolant reservoir replacement assembly
- Dual plate supercharger mounting system includes idlers, drive belt and all hardware. Mount features multiple position idler location for a wide range of belt and pulley fits.
Discharge components include:
- High flow air/air charge cooler. 24" x 13" x 3.5" cooler core.
- Mandrel bent 3" aluminum charge tubes for high flow and minimal weight
- Stainless steel clamps
- Silicone sleeves
- 98mm MAF housing configured for "blow-through" use. Integrated air-straightener upstream of the MAF housing.
- Vortech Maxflow Race Bypass Valve with filter


CARB Compliance

Complete systems are smog legal per California Air Resources Board (CARB). CARB Executive Order # D-213-33


Installation

Installation time is rated at 8-10 hours.



Optional Parts/Accessories
8-Rib Drive Upgrade

4FQ116-001 - The 8-Rib pulley upgrade is a must for any high-output tuner kit. The extra two ribs allow 33% more drive power to be transmitted to the supercharger and also reduce slip that reduces power and shortens belt life.


Supercharger pulleys

6-Rib pulleys: 2A036-348, 2A036-340, 2A036-333, 2A036-312.
8-Rib pulleys: 2A038-348, 2A038-333, 2A038-312, 2A038-300


Competition Air Inlet Assembly with Filter

4FQ112-060 - Features large, high-flow duct with oversized K&N filter element and sealed air box. Provides minimum restriction for high-flow competition use. Adds additional 20-40HP.


Fuel Pump Booster

5A102-029 - The Maxflow® fuel pump booster increases voltage to the fuel pump for increased flow to the injectors. FPB2 is microprocessor controlled and is preprogrammed for the new 5.0.
 
5A102-030 - The FPB1 Maxflow® fuel pump booster is like the 2 version but has a fixed voltage increase without programmability. Can be operated with a pressure switch.


Warranty Information:

3-Year Supercharger Limited Warranty - Available with V-3 superchargers (if purchased as part of a complete street-legal system) for an additional $50.00.
Note: Tuner kits are only eligible for a 1-Year Warranty.
Product Details
COMPLETE SYSTEM
630HP - The complete system will boost your stock 5.0 GT to 630HP and 483 LB/FT Torque with 7.5 to 8.5 PSI from the NOVI 2200SL Supercharger at factory redline using CA 91 Octane fuel.


900+HP - The same NOVI 2200SL Supercharger included with the complete system is capable of supporting additional HP on lightly modified vehicles.

COMPETITION TUNER KIT
1,000HP - Tuner kits are also available with the powerful NOVI 2200 H/D compressor stage that will support four digit horsepower numbers with additional engine mods. See 2011-2014 Mustang Tuner Kits page for additional information.
 
*NOTE - Some photos show system with optional Competition Air Inlet Assembly (Sold Separately).