2005-2006 Nissan 350Z Rev-Up Supercharger Systems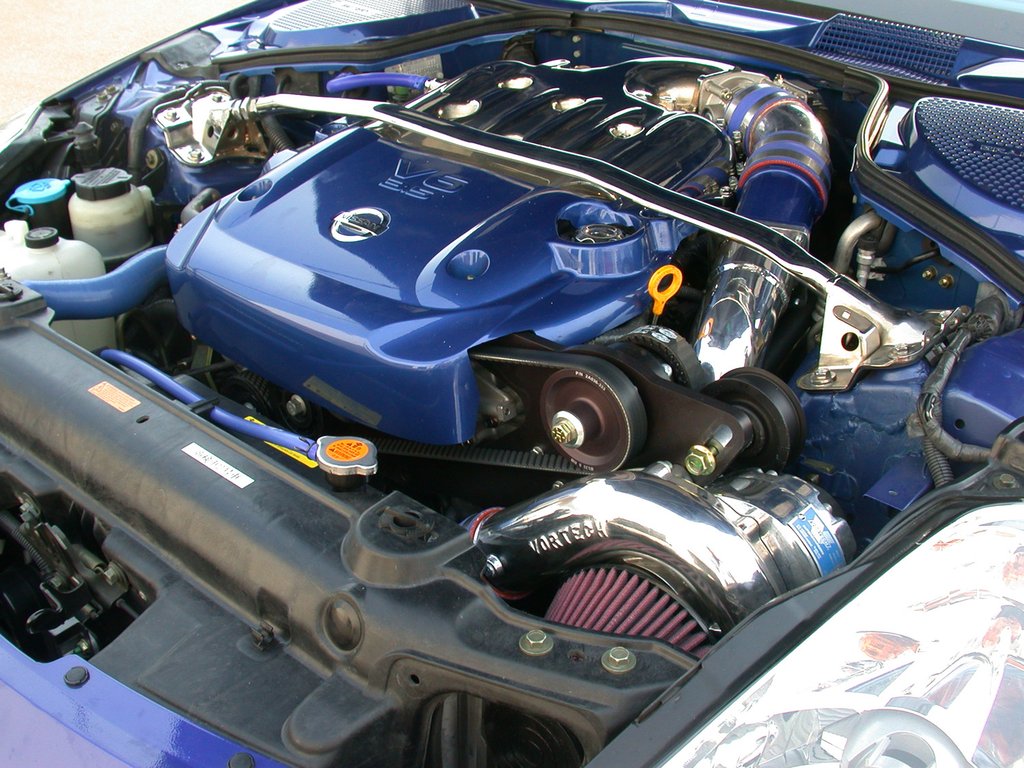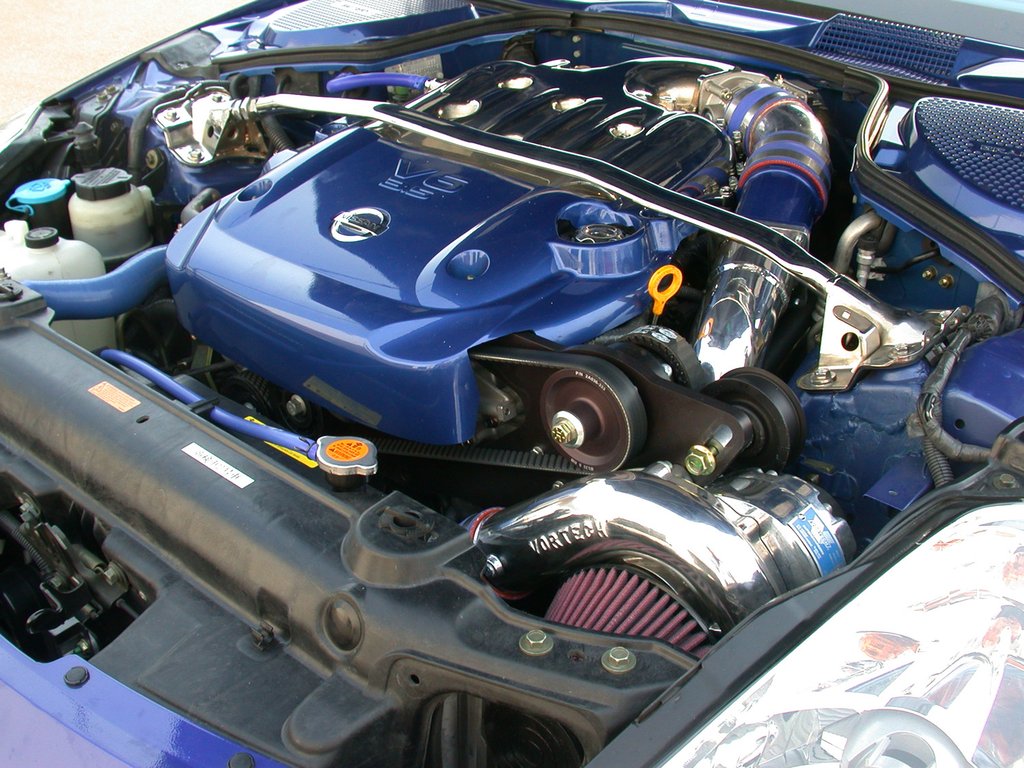 2005-2006 Nissan 350Z Rev-Up Supercharger Systems
Product Details
Bolt on a Vortech V-3 SCi supercharger system and increase your Rev-Up 350Z's horsepower to 440 and torque to 352 lb./ft.
Complete, fully calibrated supercharger systems are available for the Nissan 350Z, featuring the V-3 SCi internally lubricated, centrifugal supercharger with air-to-air charge cooler. The complete system will boost your stock Rev-Up 350Z to 440 HP with 8-9 PSI from the V-3 SCi supercharger at the factory redline.
The 350Z system uses Vortech's V-3 SCi supercharger. Continued development in Vortech's Lab resulted in the V-3 SCi. The "i" stands for improved and with its new patented oil control system and state of the art centrifugal compressor stage this V-3 literally blows away the competition. Industry leading 75% adiabatic efficiency [SAE J1723 standard] means less heat is being generated, reduced drive power and more net power is produced. Less heat also means better durability, easier on the engine than any turbo installation.
Vortech supercharger systems are a great value. Dollar for dollar, Vortech systems deliver more horsepower than virtually any other method of upgrade. Also, driven normally, gas mileage usually increases.
Vortech's 350Z Supercharger Systems are available as either a complete, fully calibrated bolt-on system, or as Tuner Kits for custom installations up to 500+ HP. And with Vortech's many upgrade solutions, there is always more power when you are ready.
Quality Features:
Vortech gear driven supercharger with SQ technology provides nearly silent operation and unmatched reliability
Technologically advanced, high-efficiency impeller and housing design developed in Vortech's supercharger test cell
Fuel management upgrade includes a high-flow fuel pump and fuel management unit (FMU)
Stand-alone ignition timing control computer provides for seamless acceleration
Integrated charge cooler configuration allows for higher horsepower gains
Discharge duct connections utilize heat resistant silicon sleeves and premium quality stainless steel clamps
Reusable air filter features a high-flow design
Billet aluminum mounting bracket for "factory-type" appearance and rigidity
Maxflow Racing Bypass Valve provides surge-free compressor operation
Supercharger drive system includes all necessary belts and pulleys
Installation
Hardware kits: 4NZ100-001 for standard engine; 4NZ100-002 for Rev-Up. These kits include spare/replacement bolts and other hardware for supercharger mounting.
Tuner Kits and Supercharger Options
Tuner kits are the same as complete systems except without the fuel system upgrades or ECM reprogramming. This allows for custom tuning and fuel modifications that the custom tuner or racer may prefer.Vortech has supercharger options for various types of racing or boost level. For continued use, such as road racing, the V-2 series superchargers share the engine's oiling system. This approach is more suitable for continued boost conditions and allows for the addition of an oil cooler or filter. Call the Vortech Tech Line for complete information on the many upgrades and options available.
CARB Compliance
Complete systems are smog legal per California Air Resources Board (CARB).
CARB Executive Order # D-213-27 (2005-2006)
Warranty Information
3-Year Supercharger Limited Warranty
Available with V-3 superchargers (if purchased as part of a complete street-legal system) for an additional $50.00. Note: Tuner kits are only eligible for a 1-Year Warranty. More information (PDF).
1-Year Supercharger Limited Warranty
Included with all superchargers except race/heavy-duty models.